Moving Beyond Shapes And Angles
Welcome to Yiwen's brand new website! 
YOGA IN DOWNTOWN BEAVERTON, OREGON
---
"Yoga (asana practice) is much more than making shapes with our bodies; it is the balance between expressing an energetic art form and applying clear, functional understanding of anatomical alignment and movement principles."  ~ Yiwen
---
Quick Intro
A longtime teacher, Yiwen Chang, is in Beaverton, Oregon! She is ready to build a community of dedicated yogis in Beaverton, Hillsboro, Aloha, and great Portland!
Yiwen's arrival was an unexpected one…
Just a few months ago, Yiwen was the director and head teacher of a vital yoga and wellness center she founded in SF Bay Area, formally known as Prajna Yoga & Healing Arts Center (Prajna Center for short). She single-handedly built this wellness community from the ground up six and a half years ago — purely driven by a yogi's passion and commitment to natural wellness.
Life does what life does; one curveball after another. Due to family reasons, Yiwen moved to Portland in December of 2016 and said goodbye to her beloved community in the Bay Area.
It is all good. After settling into the rhythm of her new life and finding her bearings around Portland, Yiwen is ready and excited to meet yogis of all levels of experience and mentor young and new yoga teachers.
ANNOUNCEMENTS
Small, intimate classes designed for individual and personal attention. Reservation required.
New Student Intro packages
-$39 for two-weeks unlimited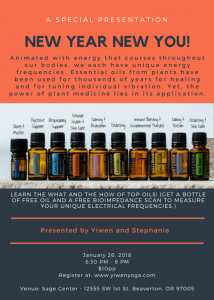 A special limited Yoga Collection of essential oils are available. ONLY $52 for three bottles of carefully crafted oils for yogis: PURCHASE HERE